About Us

Doo-B-Gone is a family owned and operated professional pooper scooper in Omaha, Nebraska. Although we're located in Omaha, Nebraska, our service area is huge. We proudly take care of your K9's waste removal needs for the benefit of keeping you and your K9's surroundings a happy and healthy place. We are #1 for picking up #2 in the entire Omaha and Lincoln areas and we keep your pets from getting poopy paws.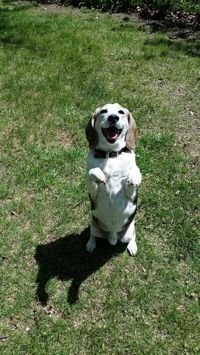 Our service areas have grown to include the greater metro areas of Omaha, Lincoln and Council Bluffs. This includes cities like Ashland, Bellevue, Bennington, Blair, Elkhorn, Fremont, Greenwood, Gretna, La Vista, Lincoln, Papillion, Plattsmouth, Ralston, Richland, Springfield, and Valley. If you have a question if we service your area, give us a call. We can be reached in the Omaha area @ (402) 210-4876 and in the Lincoln area, residents can now call (402) 210-4876 to start service.
Doo-B-Gone helps to remove the frustration of having to deal with the Dog Doo that is left behind where your dog has left off. When your dog is done poopin' Doo-B-Gone Pet Waste Removal gets to scoopin'! Absolute satisfaction is our #1 concern. We are affordable, insured professionals dedicated to providing you, our customers, with fast and the most reliable pooper scooper service in the Omaha area.
The idea of having a pooper-scooper may seem foreign to most here in the metro area, but our services provide you with convenience and freedom from a tedious and revolting chore. Pooper-scooper services are growing in popularity around the country and in the Omaha metro area. The unfortunate side of owning a pet is that canine waste has to be dealt with; it just doesn't have to be dealt with by you. Call Doo-B-Gone Pet Waste Removal and set up service today, you and your pet won't be disappointed.